What is the Best Incision for Breast Augmentation?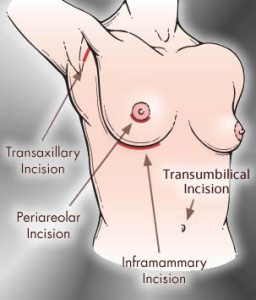 The most common cosmetic surgical procedure done in the United States based on statistics published by the American Society of Plastic Surgery is breast augmentation.  When planning a breast augmentation there are many important decisions to make such as implant type and size, implant placement above or below the muscle, and incision location.  Invariably during each consultation the question is asked, "what is the best incision?" There is no simple or correct answer to this question but in my opinion, the all around best approach is a well-planned incision at the inframammary fold (under the breast fold).
Currently there are four acceptable options for incisions: axillary (armpit), periareolar (around areola), periumbilical (belly button), and inframammary fold.  The most important job we have as surgeons when placing implants is to create a very precise pocket for the implant.  When the pocket is not created accurately or tissues are weak, the implant can shift out of place resulting in malposition.  The only correction for this problem is revision surgery.   It is a common belief among surgeons that the incisions through the armpit and belly button provide less control and are associated with a higher rate of malposition. This intuitively makes sense as you are operating from a farther distance; it would seem less precise.  Moreover, there are more recent studies that suggest these incisions may also have a higher rate of capsular contracture.  For these reasons I believe it is not a good idea to use these two incisions as any possible minor cosmetic advantage is not worth an elevated risk in major problems such as malposition or capsular contracture.
This leaves two options: the periareolar (around areola) and inframammary fold (under breast fold) incisions.  Both of these options provide excellent access and visualization for creating a precise implant pocket.  For patients with a large enough areola that has a sharp border and distinct color contrast, the periareolar scar can be almost imperceptible. The inframammary scar can require more skill in planning correctly but when this scar lies directly in the future breast fold, it too can be quite difficult to see and arguably the least visible scar.  Yet the primary reason I believe this scar to be better than the periareolar approach is an overall lower complication rate.  In recent years several studies have shown that the periareolar incision has a higher rate of capsular contracture compared to the inframammary incision.  In other studies it has also been associated with a higher rate of change in nipple sensitivity and greater difficulty with breast feeding after augmentation.  Taking all of this into consideration, I think the inframammary incision has the lowest rate of complications compared to all other incisions and aesthetically is the least visible incision when designed in such a way that it sits precisely in the future breast fold after augmentation.
Although many plastic surgeons share my belief that the inframammary incision is the overall best approach, all four incisions are still considered reasonable options for placement of saline implants and 3 of the 4 can be used for silicone implants (it is not considered standard of care to place silicone implants via the belly button incision).  I personally still use the other incisions as each patient is unique with different sets of variables that need to be considered carefully and can alter our approach.  If you are interested in breast augmentation consult a board certified plastic surgeon who can further explain all the issues regarding incision selection and determine the best approach for you.
Dr Dino Elyassnia is a board certified plastic surgeon in the San Francisco Bay Area who specializes in aesthetic surgery including breast augmentation.  Patient who meet with Dr. Elyassnia will obtain a detailed explanation of all key issues pertaining to breast augmentation and see many examples of scars including his preferred approach of a precise inframammary fold incision.