The new gummy bear implant is here! Allergan's Natrelle Style 410 gummy bear implant has been FDA Approved.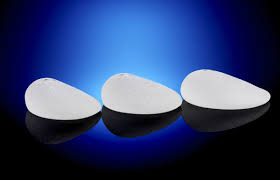 Recent trends show that silicone has replaced saline as the preferred choice of breast implant.  With the recent approval by the FDA of the Natrelle 410 highly cohesive anatomically shaped silicone breast implant on February 20, 2013, plastic surgeons now have a second major option to offer patient when it comes to choosing a silicone breast implant.  This new implant, commonly referred to as the "gummy bear" implant, is different from current round smooth silicone implants in that they are tear drop shaped.  What allows this implant to retain its shape is the more cross-linked silicone gel inside which makes this implant firmer, and thus "form stable".
So naturally the question arises, how does this implant compare to the current silicone implant on the market?  First it is very important to realize that the 410 highly cohesive implant is by no means a replacement for our current implants.  Ultimately it should be seen as another tool that offers surgeons more options to better meet the aesthetic needs of a larger group of patients.  My belief is the current smooth round silicone implant approved by the FDA in 2006 will still be the implant of choice in most cases.
To better understand the role gummy bear implants will play, lets take a closer look at some of the features of these implants:
Advantages
Highly cohesive gel likely to result in less gel migration and lowest rate of implant rupture
It is thought by many that these implants will have less capsular contracture
These implants give the surgeon a better control for shaping the breast which is ideal for breast reconstruction patients or some augmentation patients such as those with tuberous breasts
The tear drop shape can help surgeons create a less full or more natural slope to the upper pole of the breast in augmentation
Disadvantages
These implants have a distinct shape so they require a textured surface to keep them from rotating.  This textured surface can feel less natural.
If the implants do rotate, surgery is required to reposition the implant.  This is not an issue with our current round smooth silicone implants.
They are firmer and can feel less natural.
The 410 implant requires a significantly longer incision to place because they are stiffer.
Now that American surgeons have more implant choices available to them, a larger range of aesthetic breast problems can be solved.  The Natrelle Style 410 implant is not a perfect implant or necessarily better than the current silicone implants on the market.  It may be a great option for certain individuals but a suboptimal choice for others.  The best way to receive further education regarding gummy bear implants is through a consultation with a board certified plastic surgeon.
Dr. Dino Elyassnia is board certified plastic surgeon in the San Francisco Bay Area who specializes in breast augmentation.  After a detailed discussion of your goals and a careful exam, Dr. Elyassnia will review all the implant options including the gummy bear implant and guide you towards choosing the best implant to meet your needs.