Fat Grafting vs. Breast Implants for Breast Augmentation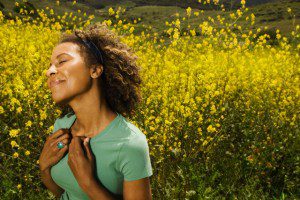 If you want to enhance your breasts but are nervous about looking too "fake" or you are scared of having an implant as with traditional breast augmentation, then it may be time to reconsider cosmetic enhancement.  Recent developments in fat grafting technology mean that you can use your own body fat to increase your bust size and lift your breasts.  Patients love the look and feel of their natural breasts, along with the added benefit of enhancing your other curves where fat is removed.
With Dr. Dino Elyassnia you can experience the kind of breast enhancement that can only come from the care and dedication of a board-certified plastic surgeon.  At Dr. Elyassnia's practice in San Francisco, CA – also serving the greater Bay Area – patients can enjoy a wide range of breast enhancement procedures, including traditional augmentation with implants or fat grafting.
So when it comes to enhancing your breasts, what's better: fat grafting or breast implants?
The Pros and Cons of Fat Grafting
In order to determine which procedure is right for you, it's important to consider the pros and cons of both fat grafting and breast implants for breast augmentation.  With this in mind, let's take a closer look at the pros of fat grafting:
Fat grafting uses your own body fat to augment the breast, which is the safest and most natural filling material. This means there's no risk for allergic reactions as you're using your own tissue.  This also means that your breasts will look and feel more natural.
There are virtually no scars associated with fat injections.  Additionally, there is no risk of rippling or long-term breast thinning, which is usually associated with large breast implants.
Finally, there is no necessary maintenance with fat grafting as compared to breast implants.  You'll also enjoy the benefits of body contouring as a result of the fat harvested for this procedure.
The cons of fat grafting include:
There are risks of calcifications in the breasts from fat injections that some physicians still worry could interfere with breast cancer screenings.
Patients who are seeking a large change may not be able to achieve their desired results with one fat grafting procedure
The cost is more than that of breast augmentation, which can be prohibitive for many prospective patients.
There is a risk of lumps and nodules in the breasts and indentations or irregularities at the site of fat harvest, especially in inexperienced hands.
The best results with fat grafting are achieved with the BRAVA device which makes the preoperative preparation period more cumbersome compared to breast implants.
Now that we've explored the pros and cons of fat grafting, let's compare these to breast implants for breast augmentation.
The Pros and Cons of Breast Implants
The pros of breast implants include the following:
Breast implants produce a very reliable, predictable change in size that patients are able to dictate.
Current silicone implants are safe and more natural-feeling than ever.  Additionally, silicone implants do not require additional surgery on other parts of the body like with fat grafting.
The cost of breast augmentation with implants is much less than that of fat grafting.
Implants can be removed easily whereas it is more difficult to remove fat once injected.
The cons of breast augmentation include the following:
Implants carry the risk of rupture and leakage, which means they must be changed over the patient's lifespan.
Implants have a risk of visibility and rippling, especially when they're too large for the breast tissue.
Implants have a risk of capsular contracture (scar tissue thickening around an implant resulting in implant distortion and hardening).
Implants require visible scars for placement compared to fat injections.
Although silicone is thought to be quite safe, it is still not as safe as using your own body fat.
Fat Grafting and Breast implants for breast enhancement at Dr. Elyassnia's Bay Area Practice
At Dr. Elyassnia's San Francisco practice, he will carefully determine which cosmetic procedure best fits your needs.  Once you've undergone your chosen procedure, Dr. Elyassnia will walk you through your recovery period to ensure you achieve optimal results, whichever method of breast augmentation you choose.